THE SINNERS
THE SINNERS
location: KHJ-TV studios
place: Los Angeles, CA
country: USA
TV programm: "Hollywood A Go Go"
comment:
The SINNERS were the house band on HOLLYWOOD A GO-GO and appeared in most, but not all, of the episodes normally lip-synching their way through covers of hits from the era. They were also the house band at Gazzarri's nightclub on La Cienega Blvd. in L.A. (the original Gazzarri's before the move to Sunset Strip). This is another example of the close relationship between the TV show and the nightclub that we do not yet fully understand.

The three members of The SINNERS were Tony Minichiello, Vic Diaz, and Manuel Sanchez. The trio started as a group named THE MATADORS (Los MATADORES) and sang harmonies on early JAN & DEAN recordings such as the "Surf City" and "Drag City" LP's in 1963. They were a big part of the vocal success enjoyed by JAN & DEAN at the time.

Tony and Manuel were classmates of JAN BERRY in University High School in Los Angeles and their careers became intertwined. Jan produced six songs for them on three Colpix Records singles in 1963-64 and wrote or co-wrote three of the songs and sang on two.

By 1964 they had become The SINNERS and had steady work between playing at Gazzarri's and later in the year on HOLLYWOOD A GO-GO (which continued throughout 1965). They released an album on Reprise Records (RS-6139) in 1964 under the name "TONY, VIC and MANUEL". Oddly nowhere on the album is their name The SINNERS mentioned. The album was titled "a Go-Go HOLLYWOOD NIGHT LIFE", an obvious reference to their nightclub and TV notoriety, and it includes some of the songs they played on the TV show. It has the sound of a live album, as if it was recorded at Gazzarri's or another Strip club, but it could easily have been produced in a studio with a "live" audience track mixed in.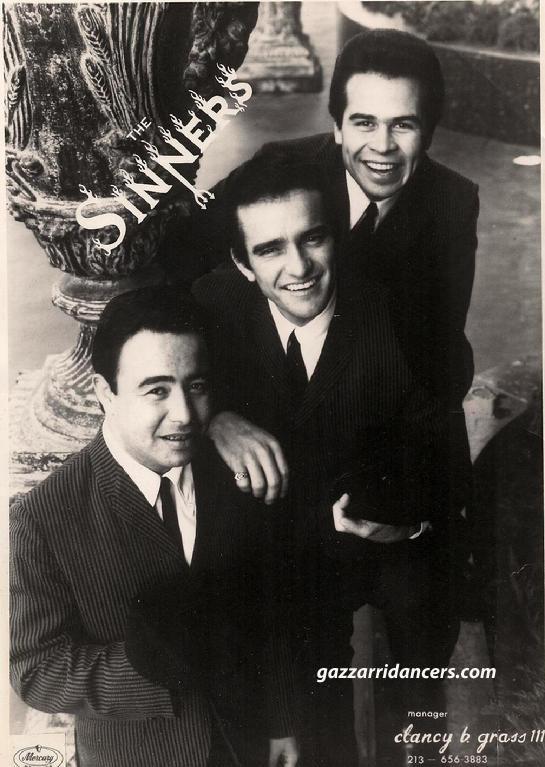 Hollywood A Go-Go was a Los Angeles-based music variety show that ran in syndication in the mid-1960s. It was hosted by Sam Riddle, with music by The Sinners and dancing by The Gazzarri Dancers.

The program originated as a local series, Ninth Street West, on KHJ-TV (Channel 9) in 1964. As Hollywood A Go-Go, it was syndicated in late 1964 and ceased production in 1965, with some television stations airing the show as late as the summer of 1966. In its brief run (52 episodes), the show featured well-known acts like Tina Turner, Frankie Lymon, Smokey Robinson & the Miracles, The Challengers, James Brown, Lesley Gore, Fontella Bass, Wilson Pickett, Sonny & Cher, The Bobby Fuller Four, The Fugitives, and Aretha Franklin.

Hollywood A Go-Go was produced at the KHJ-TV studios. Its original syndicator was Four Star Television. Rights to surviving footage of the show (preserved on kinescope film) are now represented by Research Video. The Sinners were the house band featuring Eddie Kaplan on lead guitar.