July 30, 1993
COFFEE CREEK
location: Cicero's Basement Bar
place: St. Louis, MO
country: USA
COFFEE CREEK:
Jay Farrar -- Vocals, electric and acoustic guitars
Brian Henneman -- Vocals, electric and lap steel guitars, Master of Ceremonies
Jeff Tweedy -- Bass, vocals
Mike Heidorn -- Drums, goofy grins


setlist:
Buckaroo
Are You Ready For The Country
Love's Gonna Live Here Again
Sleeping Room
Sing Me Back Home
The Bottle Let Me Down
A Good Year For The Roses
Streets Of Baltimore
Drug Store Truck Drivin' Man
You're Still On My Mind
Misery & Gin
Buckeroo
Nashville West
Back to the Country
Willin'
Blue Eyes
Wrote A Song For Everyone
Wild & Blue
Truck Drivin' Man
Danger Road
Thanks a Lot
Nashville West
Are You Sure Hank Done It This Way
Pipeline
Get Down River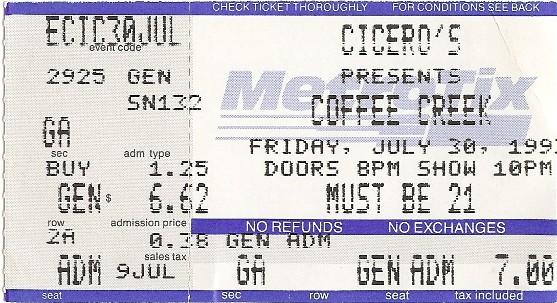 ticket
comment:
Soundboard recording.
There were four Coffee Creek shows:
The fourth and final Coffee Creek show.
The tape of this show in circulation for years was not complete (ended after "Truck Drivin' Man"), but a different source containing the complete second set has been found.