BUDDY BRITTEN AND THE REGENTS
November 1964 to September 1965

Buddy Britten & the Regents

People involved
Buddy Britten (guitar/vocal); Tony Richards (piano); Roger Pinah (drums); Nick Simper (bass).

Released two singles.

Singles
She's About A Mover/Since You've Gone : UK 1965 Piccadilly 7N 35241
Right Now/Jailer Bring Me Water : UK 1965 Piccadilly 7N 35257
artist:
BUDDY BRITTEN AND THE REGENTS
label:
PYE DV 14364
release:
1965, Germany, 7" 45rpm
A-side:
She's About A Mover
(Sahm)
B-side:
Since You've Gone
(Britten)

second pressing:

artist:

BUDDY BRITTEN AND THE REGENTS

label:
VOGUE DV 14364
release:
1965, Germany, 7" 45rpm
A-side:
She's About A Mover
(Sahm)
B-side:
Since You've Gone
(Britten)
comment:
different label but same number
as told by Nick Simper:
It was a cold Monday morning when I picked up Roger Pinah, and together we drove to the underground station where we caught the train to Oxford Circus, in the heart of London town. A short walk took us to the office of the Malcolm Rose agency, which managed Buddy Britten's career. Buddy had been highly touted for several years as Britain's answer to Buddy Holly, and very good he was too! His chiselled good looks and tall, slim physique were identical to Holly's, and the addition of a pair of (clear glass) horn-rimmed spectacles completed the image perfectly. He did a pretty good imitation of the voice as well, and had Holly's guitar style off perfect. Speculation was rife in the business that he was to play the part of Buddy Holly in a film of his life, but nothing happened. Maybe the well-spoken Harrow accent of Britten was too far removed from Holly's Texan drawl!
Buddy, whose real name I later discovered was Geoffrey Glover-Wright, welcomed me to the office, where he presented me with a stack of his single record releases, which I was instructed to learn for my debut gig at the weekend. These included several songs, which really deserved to be hits, but had not quite made it. One of the best was a great version of the James Ray U.S. hit "If You Gotta Make A Fool Of Somebody". According to legend, Buddy sent a demo copy to a well-known agency in the North, hoping to secure work in that area. Apparently he heard nothing, but it was not long before one of the agency's acts, Freddy & The Dreamers, rocketed to number one in the charts with the same song, which had left a bitter taste in Buddy's mouth! Of course, whether his version did inspire Freddie Garrity to record the tune, no one will ever know!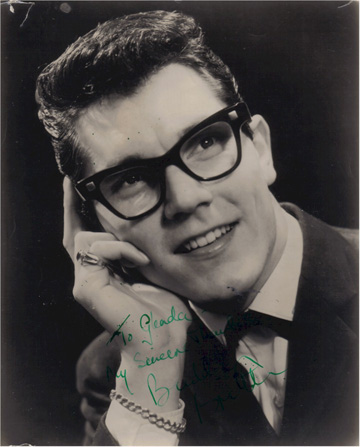 Impressed by Buddy's easygoing manner, and armed with the pile of records I headed for home, trying to take in the fact that I was now a pro musician! Today it is considered normal for people to leave school or college to pursue a musical career. Back in 1964, being a pro set you apart from the crowd, often leading to you being regarded with suspicion as some kind of freak or oddball! With unemployment being almost non-existent, anyone who did not get up in the morning and go to work was certainly not regarded as normal! I took me some time to acclimatise to the lifestyle of late nights and even later mornings, and some neighbours could not be persuaded that I was not a layabout on the dole!
Following the meeting I got down to some serious practise before having a rehearsal with Buddy and Roger prior to the first gig. Buddy and his wife Janet lived in an apartment in an old country house in Hertfordshire. Called 'Wormleybury' near the village of Wormley, it was a splendid old pile which had several areas converted to apartments, some of which were rented by workers in the music industry.
Saturday night arrived, and together with Buddy, Roger and Tony Richards on piano, I made my professional debut at the Whitehall, East Grinstead in Sussex. After forty-plus years, my memory of that first gig is extremely hazy, but I can remember that we went down very well and, as our set finished, I could not resist waving through the rapidly closing curtains to a trio of enthusiastic girls at the front of the stage. "Never ever do that again!" snarled Buddy. Suitably admonished, I didn't have the nerve to enquire why not!
Apart from that small blip in stage protocol, Buddy was very happy with my performance, and I felt ten feet tall as Roger and myself walked from the hall to my old green Bedford Dormobile van for the journey back to London.
Life had now become a hectic round of rehearsals and one-nighters. Tony Richards dropped out as he had a demanding daytime job, and so Buddy gave the task of finding his replacement to Roger, who scoured the music press adverts for likely candidates. Our first port of call was Putney, where we found a really talented pianist called Ray Soper. Ray was really up for it, and proved an asset to the group.
Together, Roger, Ray and I criss-crossed the country in the freezing Dormobile (which had no heater!), whilst Buddy, often with Janet, travelled in style in his large white Mk III Ford Zephyr saloon car, an ideal vehicle for an image-conscious rock singer in 1964. The Dormobile by contrast was rusty with a slipping clutch, and occasionally Ray and Roger would have to disembark and walk a little, to enable me to nurse it up the steeper hills.
As a member of the Regents I was now lucky enough to have become part of an elite collection of bands who all toured the same country-wide circuit of venues, and were generally regarded as good musicians who could pull a crowd and deliver the goods. The biggest and best of this collection of acts was without doubt Johnny Kidd and The Pirates, fronted by arguably the greatest rock singer England has ever produced. They were closely followed in the popularity stakes by Screaming Lord Sutch and The Savages. Other great acts who all followed the same circuit included Nero and The Gladiators, Cliff Bennett and The Rebel Rousers, Joe Brown and The Bruvvers, and Neil Christian and The Crusaders, with a young Jimmy Page on lead guitar.
Before long I found myself playing at my own favourite dance hall and local venue, Southall Community Centre, where I had witnessed so many of my heroes strutting their stuff. Bursting with pride as we rocked through our set, I could see many old school friends and acquaintances in the capacity crowd. Buddy liked to vary the set by including the odd folk ballad, and as we lurched through a shaky rendition of "Jailer Bring Me Water", a bunch of hairy biker types near the front began to hurl abuse. To my amazement Buddy signalled us to stop playing, then, stepping up to the microphone he uttered the following words – "You fellows have big mouths". As a hush fell over the crowd, the hecklers moved menacingly forward, as if about to murder us! A second later, Buddy followed up with the punch line, "Why don't you use them to sing?" As the crowd roared their approval, the troublemakers tried to back away, but two of them found themselves propelled onto the stage by their mates. Looking extremely nervous and embarrassed, the two allowed Buddy to shepherd them towards a spare microphone on a stand, instructing them to sing along with the chorus. On the count of four we resumed the song, with the chastened bikers, by now red-faced, mumbling along as instructed. Suddenly, one of their pals appeared at the front of the stage and without warning flung the entire contents of a 2-gallon fire bucket all over them! For a second, the two stood motionless, soaked from head to foot and festooned with old soggy cigarette butts, before hurling themselves off the stage in hot pursuit of the perpetrator, who wisely had swiftly legged it for the exit and the safety of the night! Buddy decided not to continue with "Jailer Bring Me Water", and after a few more rocking songs we left the stage to thunderous applause, with most of the audience convinced that Buddy had deliberately set up the hecklers for a soaking.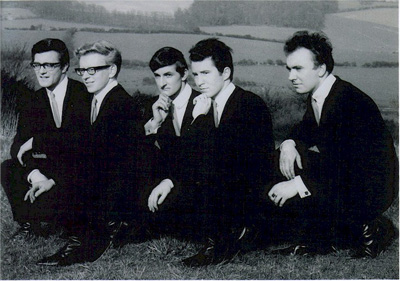 As 1964 came to a close, we finished the year with a riotous Christmas Eve show at the Dancing Slipper Ballroom, West Bridgeford, near Nottingham. The support band joined us on stage for a Christmas finale, and I shared the microphone with a then unknown Noddy Holder, as we roared through the great Ray Charles hit "What'd I Say". A splendid ending to a great year!
As 1965 dawned, so the cracks began to appear. I was not getting on so well with Buddy as before, probably because I tended to question his rules and decisions, and it was patently obvious that I was not popular with the entourage with which he surrounded himself. To be fair, I was young, brash and pretty cocky, but when you became a Regent, you were expected to obey without question. I suspect that Buddy was also having management problems, as gigs were not as plentiful as before, meaning a loss of income! Roger and Ray immediately solved this problem by joining a local R&B outfit called 'Cyrano and The Bergeracs', who had a pretty full worksheet. With just myself left with Buddy, I began to find myself picking up different drummers for gigs, who were called in to deputise. Where possible I would suggest my old Delta 5 drummer, Paul Tait, so that the rhythm section at least had some rapport.
One of Paul's first gigs was at Exeter University, where we were the support act for the Who, a West London group who were at last making waves after several name changes. Following our soundcheck, singer Roger Daltrey was heard to remark that I had Rupert's bass guitar. "Yes" said bassist John Entwhistle, "and he plays it like Rupert as well". Naturally this was an enormous boost to my ego, although deep down I knew that my ability could never come close to that of Rupert! After the gig we had a long chat with Keith Moon, who it transpired had passed an audition for the Regents, but received an offer from the Who just two days after accepting the job with Buddy.
As my career began to falter, I took other jobs to boost my income, including some gigs with a South African group who also recruited me for a photo shoot advertising shirts, and a one-off gig near Earls Court with a scratch band which featured a bloke on keyboards called John Paul Jones, and a guy singing called Dave Jones, later to take the name of the famous American knife-fighter Jim Bowie! Another memorable event was deputising for a week with local West Drayton group 'The Birds', whose bassist had gone down with tonsillitis. Featuring future Rolling Stone Ron Wood on guitar, the Birds were an exciting R&B group who always seemed on the verge of success, but sadly didn't quite make it. A great bunch of guys though; they really knew how to rock!
By now, feeling a bit in limbo, I decided to place an advertisement for my services in the Melody Maker, at that time the top music publication. The only concrete offer I had was from a Manchester based outfit called The Boomerangs. It turned out that Roger Pinah knew them personally, having spent some time living in Manchester, where his mother had a café. Apparently they were a first-rate and popular group, previously fronted by an Australian singer - hence the name Boomerangs! It was decided that I would travel north for an audition, and if all went well I would move into the home of the drummer until I had found my own place. With a date swiftly arranged, Roger decided that he would come with me for the ride north and look up a few old acquaintances. This sounded alarm bells for Cyrano (real name Dave Langston), who was worried that Roger would not return to London once he was re-united with his old pals! To solve this nagging worry, Cyrano volunteered to drive the pair of us to Manchester, thus being able to keep an eye on his newfound star drummer.
Armed with my trusty Fender bass, I pitched up at Cyrano's place in Greenford where Roger was already waiting. We departed at the crack of dawn in the Bergeracs' bandwagon, with bassist Keith Dyett coming along for the ride also. Arriving in Manchester, I met the Boomerangs at their basement rehearsal rooms, where after a few jovial preliminaries we got down to running through a few tunes that we all knew. The band seemed to be genuinely impressed with my efforts, with the exception of the drummer, Bernie Burns, who thought I was crap, and did not care if I heard him say so! For a while there was a bit of a standoff, but the lead guitarist, who went by the wonderful name of Cecil, told Bernie in no uncertain terms that the others wanted me in, so in I was! I felt rather uncomfortable to say the least, as I was going to be living temporarily with Bernie and his wife, but he was gracious enough to accept the majority verdict and, shaking my hand, welcomed me to the group.
It was arranged that I would move to Manchester the following weekend, and I departed, secure in the knowledge that I had landed a job with good financial prospects. The downside of the trip was that I had contracted a dose of food poisoning from a dodgy café on the way up, with the result that I was suddenly stricken with a bout of sickness and vomited directly into Cyrano's stage boots!
As we neared London, whilst I began to recover from my recent affliction, Cyrano suddenly turned to me with a proposition. "You don't want to live in Manchester", he said, "Why don't you join the Bergeracs?" I reminded him that he already had a bass player in Keith Dyett. However it appeared that Cyrano, who played lead guitar as well as singing, wanted me to take over the guitar role, leaving him free to project himself as vocalist only. Well, it had been some time since I had played guitar, but Cyrano was very persuasive, and before we reached home Keith and Roger were woken up to be told the news. I was now lead guitarist with Cyrano and The Bergeracs.
The following Monday saw me in Keith Dyett's house, where the Bergeracs rehearsed in the front room. I had explained the situation in a telephone call to Bernie Burns who (probably relieved) wished me well. Now I put Manchester out of my head and got on with the job in hand, which was to learn the guitar parts to about forty songs before the end of the week, when the gigs resumed. Not having a guitar did not present a problem, as I had the use of Cyrano's equipment. Also, my old school chum Tony Tacon had seen his group The Javelins fold up recently, and so I was offered the use of his Fender Stratocaster, which I gratefully accepted.
Playing with The Bergeracs proved to be an exhilarating experience. Roger and Ray rocked with as much conviction as they had with The Regents; Keith Dyett provided a driving bass, whilst Cyrano proved to be a good singer and mover, now that he didn't have the restriction of a guitar around his neck! Although rusty on guitar, I began to gain confidence and enjoy my new role, playing the Bergeracs' lively brand of rock and R&B.
Three or four weeks went by, with each gig being more successful than the last, and the band's future was looking quite rosy. Suddenly from out of the blue, guitarist Mick Keane, currently enjoying success with the Ivy League, turned up to watch our performance at the Seagull in Southall, a well-known music pub. It appeared that ace drummer Clem Cattini was leaving, and Mick had got wind of Roger Pinah's reputation. By the end of the evening Mick had offered the job to Roger, now for various reasons known as Solly, who of course accepted. Naturally the Bergeracs were not too pleased, for drummers of Solly's ability were rare indeed! However, before he even got to rehearse with the Ivy League, our old boss Buddy Britten re-appeared with an offer that neither of us could resist.
During our time on the road with the Regents, Buddy Britten would occasionally speak of his 1963 summer season spent in Jersey in the Channel Islands. Apparently his act had caused much excitement on the island and he had become something of a celebrity, attracting large crowds. At the end of his last show before returning to the mainland, the over-enthusiastic audience had demanded, and got, several encores before the management cut off the band's electricity supply, resulting in ugly scenes bordering on a riot! This resulted in a ban on the Regents returning to Jersey. 1964, needless to say, was a dire year for music on the island, and apparently a poor time financially for the establishment at which he had appeared, so the offer of a return season for the summer of '65 was welcomed by all parties!
The thought of returning to the place where my musical career had been conceived was a happy one, for 1960 had started a love for Jersey which still exists to this day, so I had no hesitation in accepting Buddy's offer of a return to the Regents. Solly, however, had just landed a great gig with the Ivy League, one of England's biggest acts, so I was amazed when he turned it down to join me in signing the contracts which Buddy swiftly drew up for us. Naturally, the Bergeracs were not too pleased at this development as the group was doing quite well. They wished us well however, and carried on with local boy Charlie Chapman on drums and the great Mick King (late of Cliff Bennett's Rebel Rousers) on guitar. Sadly they disbanded before the end of 1965 with Cyrano joining Gary Farr and the T-Bones, who featured a talented organist called Keith Emerson. Keith Dyett went to work for Jim Marshall, building amps and speaker cabinets whilst Ray Soper continued to gig with various outfits around his hometown of Putney.
By now I realised that my trusty old Bedford Dormobile, which had carted both the Delta 5 and the Regents up and down the country, was looking rather the worse for wear, so I began to look around for a suitable replacement. My old school pal from the Javelins, Tony Tacon, told me about their Morris J2 van which was up for sale following the collapse of the group. This proved to be in excellent condition, and so was purchased as the next Regents' bandwagon for the very reasonable sum of 50 pounds.
Early April 1965 saw Solly an myself heading out of London towards the docks at Weymouth, where we caught the ferry to Jersey. After arriving at the capital, St. Helier, we made our way to number 14 Raleigh Avenue, where we were welcomed by Mr and Mrs Coker, formerly of Acton, West London, who showed us to the top flat in their comfortable old house which would be our home for the next six months, at the very affordable rent of 6 pounds a week!
With Buddy and his wife Janet not due to arrive for several days, we had instructions to find and introduce ourselves to Buddy's friend Jimmy Wilson who was a talented singer and guitarist. We soon tracked Jimmy down to his residency at the Goblet Bar, situated in the basement of the Jersey Opera House. A likeable fellow from Belfast, with a sunny personality, he showed us around the island and introduced us to several characters in St. Helier, including one who startled us by appearing, as if by magic, from behind a revolving bookcase and another who offered to supply any bottle of spirits for the small sum of ten shillings (50 pence)! The most entertaining of all was a well to do businessman who loved to play poker and who, when we ran out of money, insisted that we replenish our stake from two plastic washing up bowls, brimming full of cash!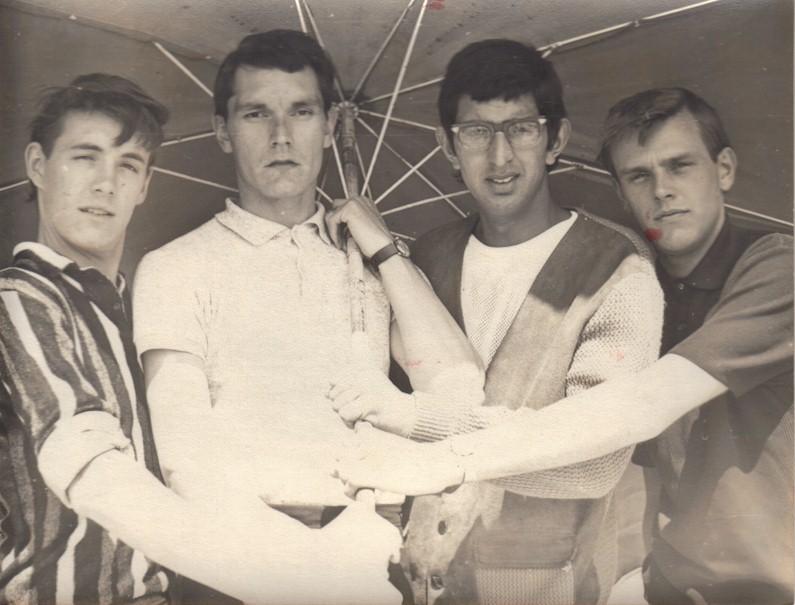 (The Regents, 1965 - L to R: Nick Simper, Buddy Britten, Roger Truth, Unknown (stand in for Tony Richards)
Whilst the island is still a lovely place to go to, visitors will find it very different from the Jersey of 1965. Today the island revolves around the financial industry and there is little live entertainment to be had, but back then Jersey was more famous for its night life. Along the five miles of the west coast alone, there were six or seven night spots. The venue that we were to play at was called the Surf Room, a dance hall cum night club situated on the edge of the beach in the centre of St. Ouens Bay (pronounced 'wons'), built onto the Watersplash, Jersey's number one nightspot, where audiences flocked nightly for a meal and a floorshow. Water fountains, cascading over stepped terraces gave the club a somewhat exotic look, which was marred one night when a joker emptied a packet of soap powder into the water, giving the whole area the appearance of a giant meringue!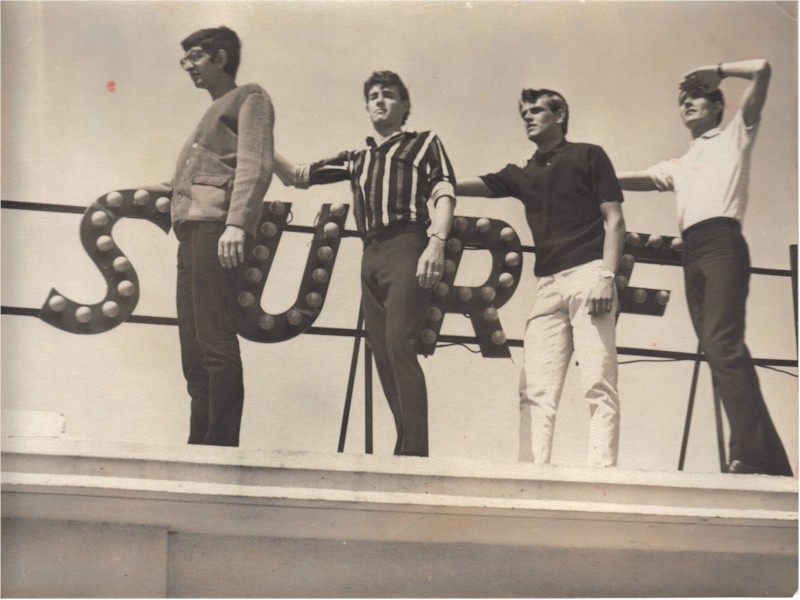 (On the roof of the Surf Room, Jersey 1965. L to R: Roger Truth, Nick Simper, (some guy included in the picture because Buddy wanted four people! Reason unknown), Buddy Britten.)
On the Thursdayfollowing our arrival we met Buddy at the Surf Room to rehearse. Decked out Hawaiian style with palm trees and garlands, the room had a good stage and lighting, with lively acoustics. As we ran through a few songs to check out the sound, a familiar looking figure wandered around for several minutes, nodding to us, then waving goodbye as he left. It was Dickie Valentine, a huge singing idol of the 1950's and 60's, who was appearing a couple of miles up the road. Further along the coast another club played host to singer Danny Williams who was riding high on the back of his huge hit "Moon River".
As Saturday night approached, there was a definite buzz in the air! The island was covered in posters advertising the gig, and we were hoping for a busy opening night. By eight o'clock on Saturday the Surf Room was absolutely packed, and the three of us sat nervously smoking in the dressing room. I tuned my bass, and then Buddy's Fender Stratocaster as I always used to do. Buddy looked immaculate in a dark blue suit, whilst Solly and I wore matching outfits in Burgundy red. As the crowd grew restless, one wag set up a chant. "Who do we want?" he shouted. "Buddy!!" roared the crowd. "Who's the greatest?" he cried. "Buddy!!" came the answer. "Who's a prat?" bellowed someone else. "Buddy!!" they roared once more. By now we were even more nervous. "You two go out first" ordered Buddy, peering out through a crack in the door. Unfortunately, the dressing room was opposite the stage, which meant running through the audience to get there. As fast as we could, Solly and I tore across the room, forcing our way through and climbing onto the stage. The roar from the crowd was deafening, even more so when Buddy arrived close behind us! With no preamble we launched into a driving set of rock 'n' roll, ending with three or four encores, before collapsing exhausted in the dressing room.
Everything that Buddy had told us about 1963 was repeating itself for this latest line-up of Regents, and so we embarked on an exciting six months which, for Solly and myself, proved to be our first taste, albeit small, of "fame". Wherever we went on the island, people would wave and seemed to know our names, so we soon made many friends. On Sunday afternoons all the musicians would gather at a club called The Sands at the north end of St. Ouens Bay for a jam session, where rock and pop musicians would play with jazz players, folk players and lounge musicians, all united in the common cause of making music and entertainment. We also made friends with many seasonal workers, often from Scotland and Ireland, as well as a strong contingent from Spain and Italy. Early in the season the island was rocked by tragedy when an airliner carrying continental workers crashed into a potato field in fog, with only one survivor. A sobering time!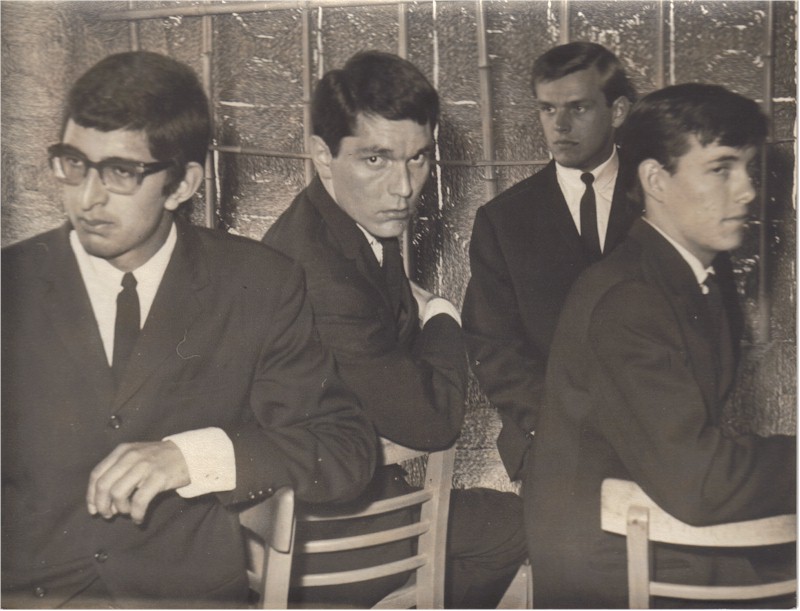 (Summer 1965: L to R: Roger Truth, Buddy Britten, Unknown, Nick Simper)
During the day, Solly and I would explore the charming capital, St. Helier, or roam the many lanes and beaches. Sometimes we would just hang out with friends, or rehearse new songs whenever Buddy felt like adding to our already huge repertoire. Occasionally one of the Watersplash musicians would cadge a lift from me to visit a sunny meadow where he was attempting to grow his own marijuana. Armed with fertilizer and a watering can, he would visit the spot often. This practice ended abruptly when he found that the meadow was now occupied by a horse that had promptly scoffed his plant, leaving no trace!
I guess that life was pretty idyllic at this time. One of the best aspects of Channel Island life was the low cost of living. There were no taxes (apart from a fixed rate of income tax) and items such as alcohol and cigarettes cost very little. Petrol was only half a crown (12½p) a gallon in old money, and it was very difficult to spend more than £15 a week, no matter how extravagant we were. After our gig was finished we often found ourselves invited to parties, particularly by the large surfing contingent who practiced their sport at St. Ouens, happens to be one of the best places for surf. In 1965 the Rothmans cigarette company were sponsors of the World Surfing Championship and we became friends with the many U.S. and Australian contestants who frequented the Surf Room at night. Like most young people on the island, they were drawn to the parties held in the Second World War underground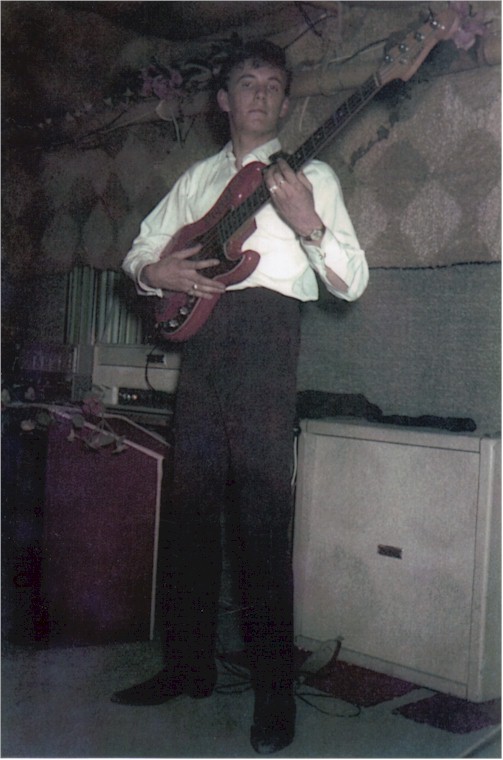 bunkers which were dotted around the coast. These had been built by the occupying German forces throughout the war years, and some had been decorated out by enthusiastic party lovers, many being hidden in cliff-top locations which were difficult to access. The Jersey authorities had declared these activities illegal, so guards had to be posted on party nights to keep a look out for police raids. The knowledge that we would be deported if caught gave these parties an added air of excitement!!
As the summer went on, the opening frenzy had settled down, but every week was different, with our audience changing nightly, although our hardcore supporters were always there! There never seemed to be a dull moment. Sometimes customers would get over-excited and be removed by the bouncers. One night the head of security, a huge guy named Jim, tried to eject one of our regulars, a Glasgow lad who had over-imbibed! When Buddy remonstrated from the stage, a slanging match ensued which led to Jim and Buddy squaring up to one another outside. Obviously the slender Buddy was no match for the Hulk-like Jim, but Buddy courageously stood up to him on behalf of our pal, even though Jim was threatening Buddy with instant oblivion!" Luckily it occurred to Jim that the whole audience sided with Buddy and would have flung him from the sea wall if he had thrown a punch! Our pal was allowed back in, whilst Jim, defeated by People power, skulked off to the bar!
Early in the season an old acquaintance and fellow musician Roddy Freeman came over for a visit. Roddy had been a big influence on my career, having graduated from skiffle to become a recording artist at the legendary Joe Meek stable before joining the Flintstones with Terry Marshall and Rupert Ross amongst others. Rod admitted that he had regarded me as a young nerd, always hanging around the band, but when he realised that the Flintstones represented animportant part of my musical education, his attitude changed and during his week in Jersey, we hung out together. Several times we visited Jimmy Wilson at the Goblet bar, who invited Rod to get up and do his stuff. He was happy to oblige and knock out the audience with his masterful knowledge of music. Accompanying himself on Jimmy's guitar, he would effortlessly run through an amazing catalogue of sings, ranging form Bill Haley to Johnny Mathis, from Ray Charles to Nat King Cole, his jazzy vocals drawing loud applause from the crowd. By the time I drove Roddy to the airport at the end of his holiday we had forged a great rapport, and he was to become one of my closest friends.
Halfway through the season we took time out to fly back to the mainland to record four songs in the Pye studios at Marble Arch, London, for the next Regents' record releases. Buddy insisted that Solly and I paid our own air fares as, he reminded us, we were "on royalties". No statement ever arrived from Pye, however, so I wrote requesting one the following year, but never received a reply!! Back in England we were met at Jim Marshall's shop by our good friend Paul Tait who had a light van with which to ferry equipment to the studio. I had previously telephoned Jim requesting the loan of amplifiers, and true to form he refused all offers of payment for his services.
Reunited with pianist Tony Richards and Buddy's brother Nigel on tambourine, we swiftly recorded the four songs for Pye records with producer John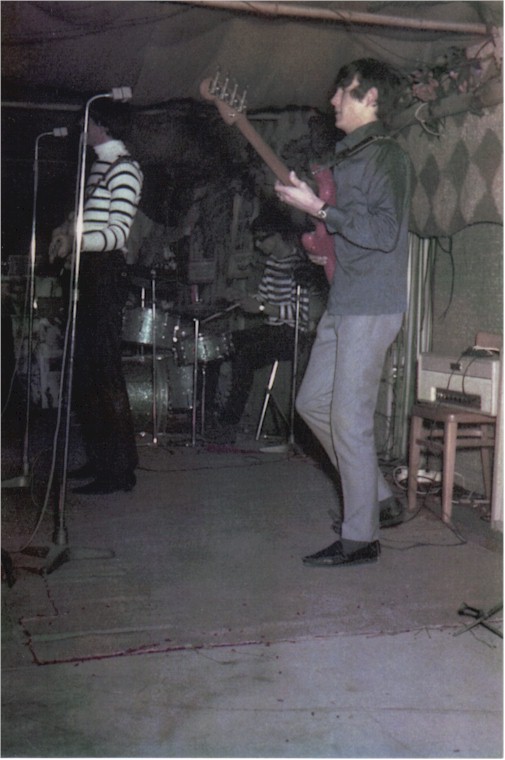 Schroeder in charge. John, famous for writing and producing a string of hits for Helen Shapiro, was a laidback producer who soon put us at ease. For me and Solly this was our baptism into the world of making records, although I had previously made a demo with Some Other Guys. In one afternoon session we completed two 'A' sides and two 'B' sides, a feat which was not unusual at the time, but probably impossible today. As we beavered away at Marble Arch I could not have imagined that I would be back in the same studio in less than three years time with a new group named Deep Purple!
Shortly after our return to Jersey we were notified of the imminent release of our single, a cover of the U.S. hit by the Sir Douglas Quintet called "She's About A Mover". Unfortunately, Pye had been a bit too slow, and the original version was released on the very same day, thus eclipsing our version completely! To make matters worse another cover of the song was simultaneously released by one of England's greatest rock singers, James Royal. Now, as James Royal (better known as Jimmy) was a good friend of both Solly and myself, we found ourselves accused by Buddy of tipping off Jimmy about the song. Of course his accusation was totally unfounded and it was just a surprising coincidence. Anyway the result was that both cover versions were completely buried by the original! To be honest I did not think that our version was as good as Sir Douglas', but backed with an excellent original written by Buddy, called "Since You've Gone", it wasn't a bad record and I was quite proud of my first release!
Shortly after, Pye released our follow-up, a cover of a song originally recorded by Mel Tormé, entitled "Right Now". Backed with the old folk standard "Jailer Bring Me Water", Right Now was a slightly jazzy up-tempo tune which got great reviews and proved popular with audiences, but failed to make the charts.
1965 was one of the best years for music, with many different types of song charting, including such diverse acts as Sonny and Cher, Righteous Brothers, Unit 4+2, Yardbirds and the Ivy League. Occasionally Buddy would include some of the more unusual hits in our act as crowd pleasers, such as "The Clapping Song" by Shirley Ellis, "Everybody" by Tommy Roe, and "King Of The Road" by Roger Miller. We also included the Everly Brothers' "Price Of Love" in our show, which I was particularly proud of. In spite of my limited vocal ability, Buddy wanted me to sing harmony wherever possible, and it was working rather well, although a bad case of tonsillitis in late August was a taste of trouble to come!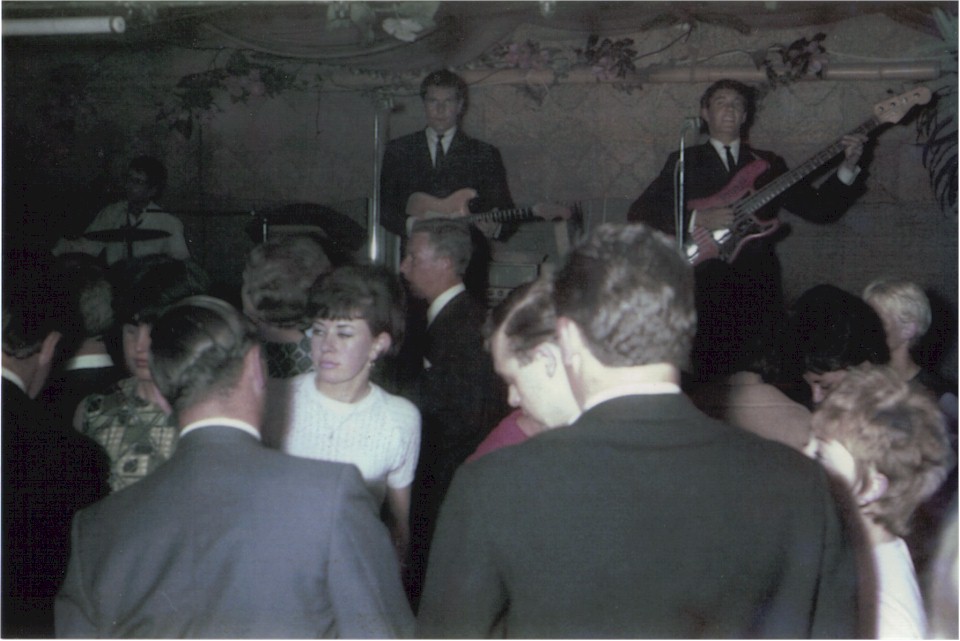 As the season continued, Solly and I were unaware of the cracks appearing in Buddy's marriage. Buddy and his wife were renting a cottage in the countryside which was the venue for many riotous parties. One Saturday night after the show, Buddy made it plain that he was in no mood to party, in spite of many people having been invited back to his house, and without a word he went straight to bed. His wife Janet, however, had decided that the party would go ahead, leading to clash of wills when Buddy emerged from his bed to try and sabotage the record player! This seemed to be the final straw and before long Janet had departed for the mainland. The effect on Buddy was quite dramatic! He seemed to enjoy being a bachelor once more, taking on he persona of a rock star cum playboy. I moved into his home for several weeks to keep him company whilst he hatched new plans. There was no doubt that the music scene was changing, with the emphasis being on groups rather than solo artists, so Buddy summoned us to a meeting in a top restaurant to outline hi new ideas. After the Jersey trip was over, the name Buddy Britten and the Regents would be no more, he solemnly informed us. He was to become Simon Raven (also the name of a best selling author) and the band members would also have new identities. Solly was to be called Roger Truth (the name he uses to this day), Tony Richards would be christened Richard Honour, and I was to be known as Kid Freedom! Truth, Freedom, Honour! Collectively we would be known as the Simon Raven Cult. The suits were to be dispensed with, dress would be pop art style and the music would be louder and more aggressive. Buddy had put his ideas to us with his usual persuasive charm, and Sollly and I were impressed to say the least!
As the season in Jersey ended, we both knew that this had been one of the happiest and most memorable periods in our short careers. We also knew that six months of playing together nightly had melded us into a useful rhythm section, ready to take on the world! Buoyed up with Buddy's new ideas, we were a happy pair as we left Jersey to return to England again....

Back on the mainland, we began to get ourselves into mode as the Simon Raven Cult, whilst awaiting the return of "Simon", who had stayed in Jersey for an extra month to tie up a few loose ends. Finally he arrived back, staying at his parents' home in Kenton near Harrow. We had been calling him by his real name, Geoff, for some time, so there was no confusion with the change of name. The air of anticipation was heightened when we were presented with a new song by music publishers Shapiro Bernstein, titled "I Wonder If She Remembers Me". This proved to be a commercial sounding rocker with a strong hook, a great first record from the "new" group, we thought. Once again we assembled at Pye Studios with John Schroeder at the helm. This time the result was a much heavier record, with Geoff creating a great fuzz sound from his Stratocaster, achieved by making cuts in a speaker cone which he had turned towards the ceiling with his silver identity bracelet placed inside it!
Buoyed up by the new recording, although a 'B' side had not yet been decided, Solly and I eagerly awaited the launch of the new project. Sadly, it never happened. Geoff, obviously clutching at financial straws, had landed us with a residency! Now, having a residency in Jersey was fine, but being stuck in the middle of London's Soho was no joke. We found ourselves performing nightly from 8 until midnight at the Van Gogh Bar, a seedy watering hole attached to the Latin Quarter in Rupert Street, a nightspot frequented by gangsters and starlets amongst other odd characters. The bar was run by a tough guy called Ted, who kept a large wooden mallet under the counter in case of "trouble"!
At the far end, next to the toilets (of course!), was a small rostrum, which the three of us could just about squeeze onto. Night after night we would entertain a boisterous collection of mobsters, prostitutes, tourists and drunks. Occasionally on match days we would be flooded with football supporters. At these times, you kept your head down and prayed to get out alive!
Even in those days it was difficult to park a vehicle in Soho, so for a while I began parking out of town and using the underground train. Geoff decided to do the same, and the very second that we finished the last song, the pair of us would grab our guitars and run like hell for Piccadilly station, often risking life and limb down the escalators in order to catch the last train. One night a huge puddle of vomit had been deposited at the bottom of the stairs, which I just managed to avoid. Geoff wasn't so lucky however, and I'll never forget the look on his face as his Cuban-heeled boots skidded across the platform in a passable imitation of an Olympic ice-skater!! As time went by, Geoff and Solly seemed to become comfortable at the Van Gogh Bar, having settled into the routine and regular money, whilst I still hankered after the excitement of life on the road. Feeling confident that I could find myself a new gig I decided that it was time to move on. I was swiftly replaced by an excellent player called Brad, who played on the 'B' side of the new single, a pretty good cover of the old Marty Wilde hit, "Sea of Love". Any regrets I felt were swiftly dispelled when I received a copy of the record, which bore one single name on the label, that of Simon Raven! The Cult had vanished before it even began! I always felt that Geoff threw away a good opportunity, and sadly the record sank without trace. It was played recently on an alternative rock radio show, and still sounded pretty good.
Geoff continued to play at the Van Gogh for a few years, and I dropped in from time to time for a beer and a blow! I played with him once more, deputising fro his regular bassist on July 8th 1967, just before he relocated back to Jersey, where he still performs to this day, although the name has been changed slightly to Simon Raverne. The name of Buddy Britten and The Regents, however has now been lost in the mists of time, but I will always be grateful for the start that he gave me and proud to have been a member of a pioneering rock trio.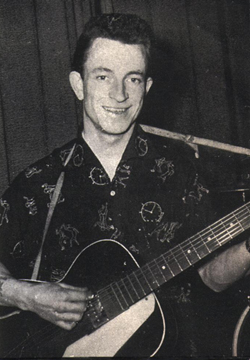 Whilst scanning the "Musicians Wanted" ads in the Melody maker, I noticed a small advertisement for a bass player with a rock n' roll trio. Just up my street, I thought. It turned out that the guys looking for a bassist were two of the most experienced players in the business. On drums was none other than Rory Blackwell, a pioneer of British rock n' roll, famous for being in the Guinness record book, having set a world record marathon on drums at the famous 2 I's coffee bar in Soho. His partner, also called Rory, was ace guitarist and vocalist Rory Wilde who, like Blackwell, had been inspiring budding musicians since the 1950's, when rock first began in Britain. Overawed by their pedigree, to say the least, I began to gig with the Rories around East London, sometimes at a large grizzly old pub in Dagenham, where the crowd was composed mainly of people who you would not like to meet down a dark alley!
In spite of their menacing looks, however, most of them turned out to be friendly, and after a couple of shows I began to relax. My musical confidence took a sideways knock though when it became apparent that I was a bit out of my depth with these hardened old pros and totally unfamiliar with their endless repertoire! Struggling in the deep end to get to grips with the bottomless pit of songs thrown at me, I know that I was gigging on borrowed time. It was not long before Rory B. and Rory W. found an older, more experienced bassist, and I was relieved to call it a day. Playing with these two veterans was good experience, though, and we parted as friends. Several years later I discovered that Rory Blackwell became a holiday camp entertainments manager, and Rory Wilde opened a bar in Spain. I last saw him on the Songs Of Praise TV programme, leading a mass gospel sing along on a Spanish beach. A far cry from rock n' roll!
After several weeks without a gig, I began to feel that the big adventure was now over, and so it was time to look for a proper job! Throughout the sixties there was never any shortage of work, so it was not long before I found myself a position as a stock control clerk at a company called Rymans in Perivale, Middlesex. Rymans specialised in office equipment supplies, so I spent my day checking orders for everything from office furniture to paper clips. Hardly creative, but it paid the rent! Sitting next to me was another office newcomer, also from Hayes, named Des Keane. Des and I really clicked. He had a devilish sense of humour, and we spent more time playing gags on other staff members than doing any actual work.
One day I fell into conversation with a guy in the warehouse who somehow knew about my musical past. He explained that he had a pal who was a successful record producer called (if I remember correctly) Mikki Dallon. Apparently his latest success was a top ten chart hit for Neil Christian, called "That's Nice", and Neil was currently recruiting for his group, The Crusaders, to go on the road and capitalise on his hit. Armed with Neil's telephone number, I wasted no time in getting touch. He explained that he already had his original drummer, Jimmy Evans, in the frame, together with Ritchie Blackmore on lead guitar. Yes, he said, I would fit the bill nicely, and promised to call me as soon as rehearsals were arranged. Was I excited? I felt like a dog with two tails! However, after several weeks with no call, I realised that I wouldn't be leaving Rymans yet, after all. In fact, the job was already taken by journeyman bassist Tony Dangerfield, already tried and tested!
Not long after this short-lived bit of excitement I was contacted by Dave 'Cyrano' Langston of the Bergeracs, who was attempting to start a new group. For several weeks we held evening rehearsals with myself on bass, Cyrano back on lead guitar, Charley Chapman on drums, and a singer named Gabby. Whilst it wasn't bad, we never really sparkled and so we soon mutually decided to call it a day.
Early in 1966 I received a letter from ex-Renegade Rich Bennett, who was now successfully forging a new life for himself in Toronto, Canada. I showed the letter to Des Keane, together with the photograph of Rich, standing beside a huge American car. Des was impressed, and it wasn't long before we were both discussing the idea of emigrating ourselves, with Canada being the obvious destination. Before we could get serious however, events took an astonishing turn for me, leading to a stroke of luck that I could never have believed possible!
This was a period when the whole musical scene was changing, not necessarily for the better in my opinion, as Merseybeat, spearheaded by the Beatles, was dominating the business. There is no doubt that they wrote great songs and made great records, but to me the sound had little appeal. Such was their fame though, that whenever I left the house, my mother insisted on cracking the same tiresome old gag, asking "If the Beatles call, shall I say that you're available?" to which I always replied, just before closing the door, "No! But I am if Johnny Kidd calls!"
Now Johnny Kidd, he was something else altogether! Ever since Cliff Barton had introduced me to Johnny's music, I had been his number one fan. Indeed, most of the musicians I associated with would have given their eye-teeth to be in his band, the Pirates! There is no doubt that Kidd was a seminal influence on many singers and musicians who graduated from this period, including some of the biggest names. As I will deal with later on in this story, history and the music business did not treat Kidd kindly, and if there were any justice he would still be a household name today, as he was all those years ago! For those unfamiliar with his reputation in those days, I can only say that to join the Pirates back then was an experience that would be matched today by a young heavy rock player joining one of today's stadium rock acts!
Now, I figured that my chances of playing with Kidd were slimmer than my chance of walking on the moon, so you can imagine my disbelief on arriving home one evening to be told that my ex-Regents and Bergeracs buddy, Ray Soper had telephoned to say that he was gigging with Johnny Kidd! Half disbelieving, and absolutely green with envy, I telephoned Ray immediately for the story. It transpired that he was gigging with a semi-professional group, one of whom was a window cleaner by trade. He also happened to clean Johnny Kidd's windows, and had struck up a conversation with him. It had been announced in the press recently that Kidd wanted to lose his tough-guy image and appeal to wider audiences, and to this end he had split with the Pirates, ditched his famous eye-patch trademark and buccaneer outfits in favour of smart suits in order to target cabaret venues.
Still having quite a few rock dates to fulfil, and without a band, the window cleaner's group were offered the chance to back him on these final appearances. Without beating about the bush, I asked Ray how good the group was. "Not very!" was the reply. My brain went straight into overdrive - "Why don't the old Regents become the new Pirates?" I suggested. Impressed by this stroke of genius, Ray agreed to meet me the following evening, when we would pay Kidd a visit. With Roger "Solly" Truth in tow, we drove to Johnny Kidd's home on the edge of a smart up-market estate in Harrow, Middlesex.
Feeling extremely nervous, and slightly amazed at the sheer cheek of it all, we strode up the path, past the cannon on the lawn, and rang the bell. The door was swiftly opened, and there stood the great man himself! Obviously he recognised Ray immediately, and peering at Solly and myself, realized that he vaguely knew our faces. "Hi fellas", said Kidd, "What can I do for you?" "John" I replied, trying to muster a bit of more bravado than I felt, "We are your new band!" Kidd stared at us in amazement. "OK." He replied, "Then I guess you'd better come on in." Rather sheepishly we followed him into the lounge and were introduced to his wife, Jean, who went off to the kitchen to make some tea.
Johnny listened patiently as we sold ourselves to him, eventually convincing him that we could deliver the goods. I was dispatched to the local pub to fetch a few beers, and on my return we toasted the new alliance. Soon the conversation turned to the subject of who could play guitar. We suggested approaching old mate Mick Keane of the Ivy League. Johnny seemed happy with that idea, and suggested a rehearsal as soon as possible. With this loose arrangement in place, we took our leave of Johnny Kidd at around midnight. As we shook his hand and said goodbye he uttered the words that I will never forget. "Thanks a lot fellas", he said, "You've saved my life!"