THE ROGUES
INFO FROM EbAY:
The Rogues - Woman (The Zombies song) b/w She's About A Mover
Very Rare Original Swedish Picture Sleeve 45.
Label: Swedish Philips PF 350 278
Sleeve/Record VG+\VG++ Fold open sleeve has a sligt tear at top (see pic) otherwise M-, record has minimal light marks, plays great.
Hard to find Super Rare Swedish Beat 45.
Great version of the Zombies Classic and good B side as well!
Never comped as far as I know.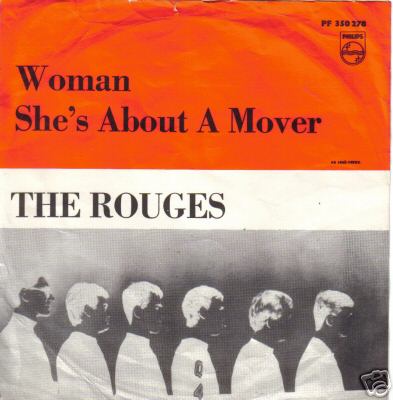 ROUGES / ROGUES
A: Woman
B: She's About A Mover
[PHILIPS, PF 350278, SWEDEN]
ULTRA RARE debut 45 from 1966 by this obscure swedish group (with mis-spelled name on the sleeve!). Two SCORCHING garage / freakbeat sides. "Woman" is a frantic garage pounder with a blistering guitar break and the b-side is a version of the Sir Douglas Quintet classic.