CD 20
1.I Can't Help It - Hank Williams (1951)
2.Taylor Made Woman - Tennessee Ernie Ford (1951)
3.Let Old Mother Nature - Carl Smith (1951)
4.South Of The Border - Gene Autry (1951)
5.Kissin' Bug Boogie - Tennessee Ernie Ford (1951)
6.Don't Get Above Your Raisin' - L. Flatt & E. Scruggs (1951)
7.Get Your Kicks - Johnny Hicks (1951)
8.Hey Good Lookin' - Hank Williams (1951)
9.Stack-O-Lee - Tennessee Ernie Ford (1951)
10.Sick, Sober And Sorry - Johnny Bond (1951) 2:39
11.The Wild Side Of Life - Hank Thompson (1951)
12.Lonesome Whistle - Hank Williams (1951)
13.Ocean Of Tears - Tennessee Ernie Ford (1951)
14.Blue Guitar Stomp - Leon Mc Auliffe (1951)
15.Trouble In Mind - Jerry Irby (1951)
16.Honky Tonk Blues - Hank Williams (1951)
17.Rock City Boogie - Tennessee Ernie Ford (1951)
18.Indian Summer - Spade Cooley (1951)
19.Prairie Dog Ramble - Andy Schroder (1951)
20.Jambalaya - Hank Williams (1951)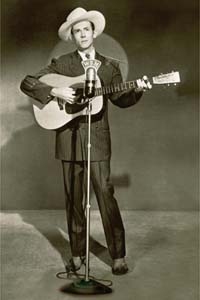 Hank Williams

Jimmie Rodgers' influence
Jimmie Rodgers' gift to country music was country folk. Building on the traditional ballads and musical influences of the South, Rodgers wrote and sang songs that ordinary people could relate to. He took the experiences of his own life in the Meridian, Mississippi, area and those of the people he met on the railroad, in bars and on the streets to create his lyrics. He used the musical influences of the traditional ballads and the folk to create his tunes. Since 1953, Meridian's Jimmie Rodgers Memorial Festival has been held annually during May to honor the anniversary of Rodgers' death. The first festival was on May 26, 1953.

Pathos, humour, women, whiskey, murder, death, disease and destitution are all present in his lyrics and these themes have been carried forward and developed by his followers. People like Hank Williams, Sr., Merle Haggard, Waylon Jennings, George Jones, Townes van Zandt, Kris Kristofferson and Johnny Cash have also suffered, and shared their suffering, bringing added dimensions to those themes. It would be fair to say that Jimmie Rodgers sang about life and death from a male perspective, and this viewpoint has dominated some areas of country music. It would also be fair to credit his influence for the development of honky tonk, rockabilly and the Bakersfield sound.


Hank Williams
Jimmie Rodgers is a major foundation stone in the structure of country music, but the most influential artist from the Jimmie Rodgers strand is undoubtedly Hank Williams, Sr. In his short career (he was only 29 when he died), he dominated the country scene and his songs have been covered by practically every other country artist, male and female. Indeed, his songs were covered by jazz, pop, and rhythm and blues performers from early in his career. Songs like "Cold, Cold Heart" and "I'm So Lonesome I Could Cry" have long been pop standards.

Williams had two personas: as Hank Williams he was a singer-songwriter and entertainer; as Luke the Drifter, he was a songwriting crusader. The complexity of his character was reflected in the introspective songs he wrote about heartbreak, happiness and love (such as "I'm So Lonesome I Could Cry" and "Your Cheating Heart"), and the more upbeat numbers about Cajun life ("Jambalaya") or cigar store Indians ("Kaw-Liga"). He took the music to a different level and a wider audience.

Country artists have included Williams in their compositions. Waylon Jennings pondered whether his career matched up with Hank's in "Are You Sure Hank Done It This Way" and Hank Williams Jr. recounts the uproarious conditions in his and his father's bands in "A Family Tradition". David Allan Coe boasts in "Longhaired Redneck", "I can sing you every song Hank Williams ever wrote".

Both Hank Williams, Jr. and his son Hank Williams III have been innovators within country music as well, Hank Jr. leading towards rock fusion and "outlaw country", and Hank III going much further in reaching out to death metal and psychobilly soul.

This 20 CD Box is brandnew and factory sealed in shrink wrap!