FREDDIE FENDER
FREDDY FENDER
40132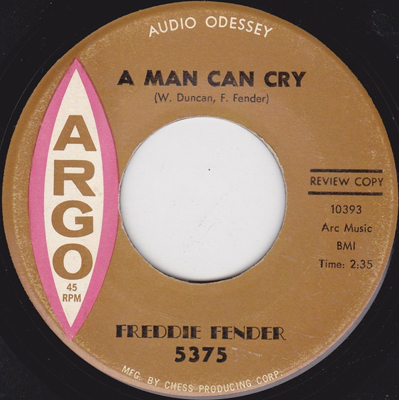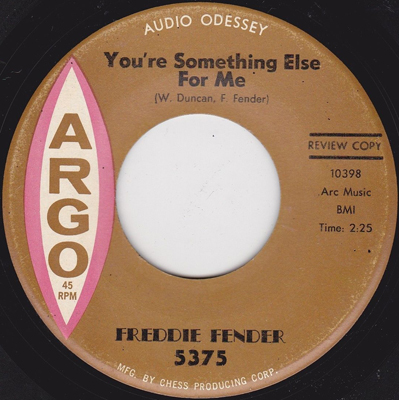 40203
40988
40076
artist:
FREDDIE FENDER
label:
ARGO 5375
release:
December 1960, USA, 7" 45rpm
A-side:
A Man Can Cry (2:35)
(W. Duncan - F. Fender)
B-side:
You're Someting Else For Me (2:25)
(W. Duncan - F. Fender)
comment #1:
This single is from December 1960 and has Freddie doing some real R&B style rock in his tune "You're Something Else For Me," which he claims to have written. Actually, it's simply a re-write of "Ain't That Lovin' You Baby" a 1956 Jimmy Reed tune. Good thing he was in jail a little while after this came out, as he would have been hauled up on charges if the record made any money. It's flipped with another tune he claims to have written called "A Man Can Cry." It's a rare record that doesn't turn up so often. Get it while you can.
comment #2:
FREDDIE FENDER

Freddy Fender was one of the few Hispanic stars in country music, a singer and songwriter whose work was defined largely by its strong Latin sensibility. Born Baldemar Huerta to a family of migrant laborers in San Benito, Texas on June 4, 1937, Fender began playing guitar early in his childhood. After dropping out of school at the age of 16 to join the Marine Corps, he released his first Spanish-language recordings under the name Baldemar Huerta (The Be-Bop Kid) in 1958.

While his initial sides were successful with listeners in Texas and Mexico, in 1959 he decided to adopt his stage name Freddy Fender, along with a stronger rockabilly feel, in order to attract "gringo" audiences. His next move was recording and releasing the self-penned "Wasted Days and Wasted Nights." It did reasonably well in South Texas and was picked up for national distribution by Imperial Records, who paired it with "I Can't Remember When I Didn't Love You."

But in May of 1960, Fender was convicted of marijuana possession, and was sentenced to five years in Louisiana's notorious Angola State Prison. After serving three years, he was paroled thanks to the efforts of Louisiana governor Jimmie Davis, on the condition that upon Fender's release he stay away from the corruptive influences of the music scene. After his parole ended, Fender tried to re-ignite his career, but with the exception of a few scattered nightclub gigs in the New Orleans area, he found little success, and ultimately returned to San Benito. [Jason Ankeny, All Music Guide]
pics 10646
artist:
FREDDY FENDER
label:
ABC DOT DOSD 2061
title:
IF YOU'RE EVER IN TEXAS
release:
1976, USA, LP
A-side:

Don't Do It Darling (3:15)
(Webb Pierce)
It's All In The Game (2:20)
(Dawes - Sigman)
San Antonio Lady (2:57)
(Lee Emerson - Micky Moody)
What A Difference A Day Made (2:35)
(Stanley Adams - Maria Grever)
Livin' It Down (2:30)
(Ben Peters)

B-side:

Pass Me By (2:40)
(Hillman Hall)
If You're Ever In Texas (2:25)
(Jerry Abbott)
Sometimes (2:03)
(Gene Thomason)
Just One Time (3:10)
(Don Gibson)
It's Too Late (2:45)
(Chuck Willis)
50's Medley: (5:35)

Donna
(Richie Valens)
For Sentimental Reasons
(Deek Watson - William Best)
You're Mine
(Robert Mellin - Virginia Jerik)
Cherry Pie
(Joe Josea - Marvin Phillips)
Sincerely
(Allan Freed - Harvey Fuqua)
Earth Angel
(Jessie Belvin - Dootsie Williams)
Angel Baby
(Rose Hamlin)
Daddy's Home
(James Sheppard)

comment #1:
FREDDIE FENDER
PHILIPS 0754
A-side: Bailen Descalzos (Bare Footing)
B-side: Hey Hey (She's About A Moner)
release: 1966, Mexico, 7" 45rpm

1975 music sheet

FREDDY FENDER SHEET MUSIC! As Recorded by FREDDY FENDER on ABC DOT Records. WHAT???!!!! OK, I must have been really busy in 1975. I completely missed this one. Piano/Vocal/Guitar. Lyrics by Paul Francis Webster. Music by Sammy Fain. Spanish Lyrics by Freddy Fender. Doris Day had a #1 hit off this in 1954. I'm not sure if her version had a Spanish section in the song. If you know, I would love for you to write me. This would look fantastic in a frame!

Freddy Fender (June 4, 1937), born Baldemar Huerta in San Benito, Texas, USA, was a Mexican-American, Tejano, country, and rock and roll musician, known for his work as a solo artist and in the groups Los Super Seven and the Texas Tornados. He is best known for his 1975 hit "Before the Next Teardrop Falls." He charted 21 Country Hits 1975-83. He died on October 14, 2006 of lung cancer at his home in Corpus Christi, Texas with his family at his bedside. He was 69 years old and is buried in his hometown of San Benito, Texas. International news coverage of the death cited an oft-expressed wish by the singer to become the first Mexican-American inducted into the Country Music Hall of Fame, with reporters noting that posthumous induction remains a possibility. This song debuted on the Billboard Top Pop Singles 100 on 10/18/75. It was on the charts for 11 weeks and reached a Top Pop position of #20!