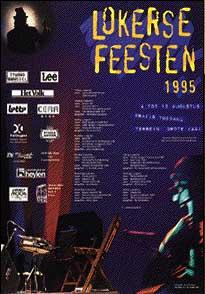 August 11, 1995

DOUG SAHM & THE LAST REAL TEXAS BLUES BAND
venue: Grote Kaai (open air)
location: Lokeren
country: Belgium

"Lokerse Feesten"

personnel:
Doug Sahm - guitar, bajo sexto, vocals
Augie Meyers - keyboards, accordeon, vocals
Al Gomez - trumpet
Rocky Morales - tenor saxophone
Jack Barber - bass
Clay Meyers - drums

setlist:

comment:

This was Jack Barbers first European tour.
Shandon Sahm joined this tour. It was his first visit to Europe. He didn't play.
Two days before this concert Jerry Garcia (co-founder of the Grateful Dead) died on August 9, 1995 (aged 53).
Doug dedicated some songs to Jerry. Among others a beautiful version of "Song Of Everything".
more info about the "Lokerse Feesten"